Recently off the road with metal legends Mushroomhead and a year since his first co-headlining international tour of Russia, Ukraine, & Belarus, Sedated continues gaining a regional and global buzz. Featured in many publications including Horrorcore Magazine and the National Rock Review, this Midwest Music Awards 2015 Hip-Hop artist of the Year has been growing at an advanced rate. Coming from the Mid-West is one of the most dynamic Hip Hop Artist in the industry. Born and raised in Kansas City,MO , William Eric Clifton a.k.a Sedated has overcame poverty. From walking up and down Topping Ave. to being a force in the underground and walking onto stages across the globe. William started his musical journey by pure circumstance. If he was asked, he would say, music came to him. From the moment the bond was established, William set his artistic journey into motion. Teaming with childhood friend and audio engineer, Scott Stitt, as the mixing wizard behind the Sedated sound, they have fine tuned and developed a production value that could be compared to major market releases. When it comes to the Sedated projects and material, most all production is done in-house and hands on. The lyrics are not your average make-up as many artist in the underground markets. William developed his talent thru writing poetry in the beginning. Starting as a Bard, this created a dynamic and original writing style.  There is a lot of thought put into every track Sedated records. You can notice this on tracks like "One Day" and "True Will".
To inspire or induce emotion is one of the greatest honors an artist can receive. This is one of the Sedated goals with listeners. Sedated has a unique message backed by a high energy performance.  His stage show and presence is demanding of attention and is normally a highlight of the event for the spectators. Sedated has performed on the stage with some of Hip-Hop's heaviest hitters, including Rittz, Krizz Kalico, Haystak, Big B, King Gordy,Nappy Roots, Cadillac Don, Potluck,Kung Fu Vampire, Oxxxymiron, ABK, and more! From East to West, Country to Country, Sedated has achieved astounding feedback and has developed a foundation built on lasting fans and supporters.  What makes Sedated interesting is his down to earth posture and love for his fans and supporters. From the stage to the booth and between, he takes more than himself into consideration while making this music and doing shows. He really makes music for the people.
The newest release, "Push Pause EP", featuring 5 new tracks, just landed worldwide distribution with RBC Records, giving another major step in the Sedated path. With everything assessed, 2017 has a very good outlook for Sedated fans and the whole Sedated Nation team with a new full length album on the way and a recent sponsorship with Horrorcore Magazine, there is good hope the Sedated brand will continue to grow and give people an alternative to amazing amount of bullshit their ears are bombarded with daily..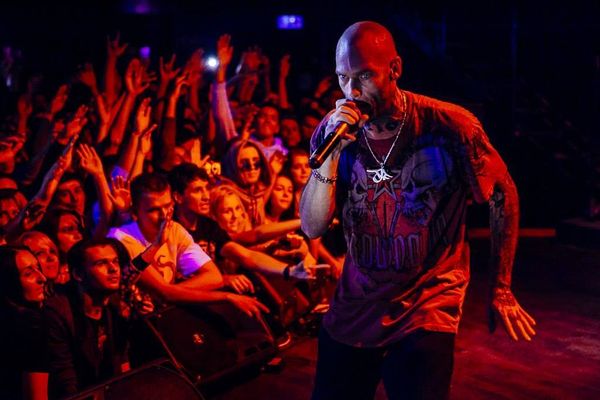 NEWS & MEDIA
http://horrorcoremagazine.com/V3/sedated-debut-video-release/

http://www.juggalonews.net/news/official-2015-midwest-music-awards-ballot/

http://www.faygoluvers.net/v5/2015/06/sedated/

http://www.desertjuggalos.com/#!NEW-SEDATED-SxHxIT/cljc/5597ff810cf2efdf74ebbc52

https://www.youtube.com/watch?v=AZPzHTN1pDQ

http://www.desertjuggalos.com/#!Moment-in-our-Spotlight-for-SEDATED/cljc/54fdec2d0cf27b8ab2530d0a

http://www.imdb.com/title/tt3497322/combined

http://www.juggalonews.net/news/sedated-phone-interview-may-2015/

http://www.faygoluvers.net/v5/2015/07/push-pause/

http://rap.org.ua/clips/Sedated-True-Will-istinnoi-voli-2015/

http://www.rap.ru/news/5540

http://www.lastfm.ru/music/Sedated